Fenotypische verschijning met de gestroomlijnde brindle kleur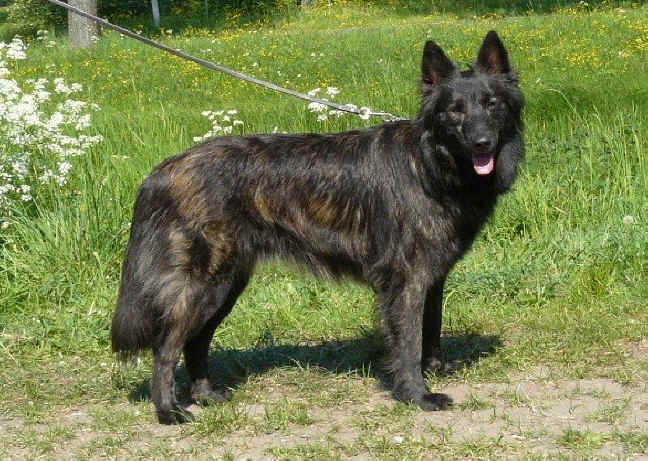 Here as a fenotypical exemple such as the Dutch Shepherd his Genotypical = kbrkbrBB/EE-gene or kbrkyBB/EE-gene.

By the Newfoundland is this a wrong color and see the pedigree of Powerhouse Wellington
Waarschijnlijk is hier alleen de moederhond Powerhouse Tara drager
omdat alleen haar kinderen lijder zijn in combinatie met Cayuga Giovanni for Merrybear.
Cayuga Giovanni for Merrybear heeft 347 nakomelingen gehad en alleen met Powerhouse Tara kwam er brindle uit.
Kleurcode van de zwarte en een bruine recessief voor brindle is dan :
KBkbrBBCCDDEESStt for black, or the code for brown : KBkbrbbCCDDEESStt = recessieve code.
kbrkbrBBCCDDEESStt = black brindle, or brown (orange) brindle = : kbrkbrbbCCDDEESStt = leader of brindle.
kbrkybbCCDDEESStt = Brown Leader of Brindle and carrier of Fawn.